Filter by Category
Wilderness & Remote First Aid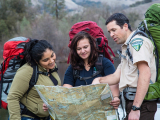 Wilderness & Remote First Aid

Next available session starts Feb 22, 2024 at 8:30 am
This is an in-person class led entirely by a Safety Services Hawaii instructor. There is no online component.
This course provides individuals a foundation of first aid principles and skills to be able to respond to emergencies and give care in areas that do not have immediate emergency medical services (EMS) response. This includes wilderness and remote environments as well as urban disasters, such as earthquakes and hurricanes. Upon successful completion of the full course, you will a Wilderness and Remote First Aid certification valid for 2 years.
Registration includes a free Wilderness and Remote First Aid Emergency Reference and Pocket Guide.
Prerequisites:
At least 14 years of age
Possess valid adult CPR/AED certification
More info available here on the course fact sheet